End of Year
Sale
going on now!
Ariel Magazine Winter Edition coming December 1st
Isaiah Commentary coming in mid-January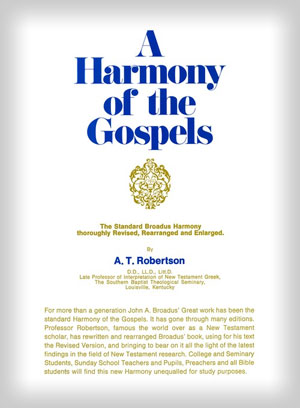 A Harmony of the Gospels
by A.T. Robertson
For more than a generation John A. Broadus' Greek work has been the standard Harmony of the Gospels. It has gone through many editions. Professor Robertson, Famous the world over as a New Testament scholar, has rewritten and rearranged Broadus' book, using for his text the Revised Version, and bringing to bear on it all the light of the latest findings in the field of New Testament research. College and Seminary Students, Sunday School teachers and Pupils, Preachers and all Bible students will find this new Harmony unequalled for study purposes. A. T. Robertson is late Professor of Interpretation of New Testament Greek, The Southern Baptist Theological Seminary, Louisville, Kentucky.
Hardcover: 352 pages
ISBN: 0060668903
Dimensions: 8.4 x 5.8 x 1.2 inches
Shipping Weight: 1.14 lbs