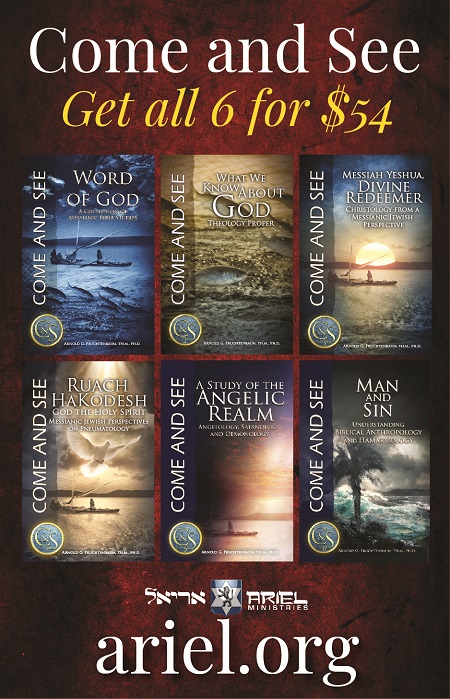 Come and See Series
by Dr. Arnold Fruchtenbaum
Come and See is a multi-volume collection of Messianic Bible studies that covers all topics of systematic theology. Ideal for discipling young believers in biblical truths, for small group Bible studies and those who teach such groups, each volume will give you a solid foundation of truth that you can depend on.
Volume 1 (The Word of God) deals with the Bible itself, it's revelatory nature and covenantal framework. Volume 2 (What We Know About God) examines the nature, attributes, and trinity of God, as well as many other important topics, including the names of God in the Old and New Testament and what they tell us about His character and work. Volume 3 (Messiah Yeshua, Divine Redeemer) is a comprehensive study of the Son of God and Volume 4 (Ruach HaKodesh) considers the person and work of the Holy Spirit. Volume 5 (A Study of the Angelic Realm) investigates both the good and the evil realities of the unseen world. Volume 6 (Man and Sin) presents the biblical view of the origin and nature of man and his fall into sin, as well as the origin and nature of sin.
Each of the chapters contain challenging questions and study suggestions that make this series an excellent tool for anyone who desires to acquire a deeper understanding of the basic truths of the Bible.
Five paperback volumes, glossy: 869 pages total
Dimensions: 6" x 9"
Volume 1 ISBN: 978-951059-68-2
Volume 2 ISBN: 978-1-935174-48-6
Volume 3 ISBN: 978-1-935174-57-8
Volume 4 ISBN: 978-1-935174-82-0
Volume 5 ISBN: 978-1-951059-68-2