Isaiah Commentary coming in mid-January
Looking for an upcoming event? Learn more
here
.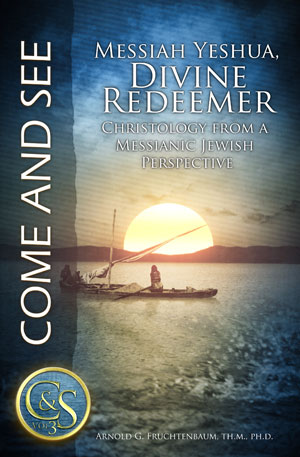 Messiah Yeshua, Divine Redeemer: Christology from a Messianic Jewish Perspective
by Dr. Arnold Fruchtenbaum
C&S Volume 3: The Come and See series is a multi-volume collection of Messianic Bible Studies transcribed from Dr. Arnold Fruchtenbaum's original radio broadcasts. Each study is a solid foundation upon which you can stand or from which you can teach. The texts will edify you in your personal devotion or small group Bible study regardless of which topic you choose.
Volume 3 of Come and See is a comprehensive study of the Son of God. Dr. Fruchtenbaum's unique focus of looking at Yhua (Jesus) from a Messianic Jewish perspective adds a dimension to this field of systematic theology that is often missing in the church today. The author works his way through the Hebrew Scriptures and shows how the revelation of the Messiah gradually progressed to reveal a magnificent picture of the Deliverer to come. The study of the life of the Messiah and theologically relevant topics, such as the Incarnation and the Crucifixion, profits from this Jewish frame of reference as well. The questions and study suggestions at the end of the chapters will challenge anyone who desires to dig deeper into the Word of God.
Paperback, glossy: 232 pages
Dimensions: 6" x 9"
ISBN: 978-1-935174-57-8