Isaiah Commentary coming in mid-January
Looking for an upcoming event? Learn more
here
.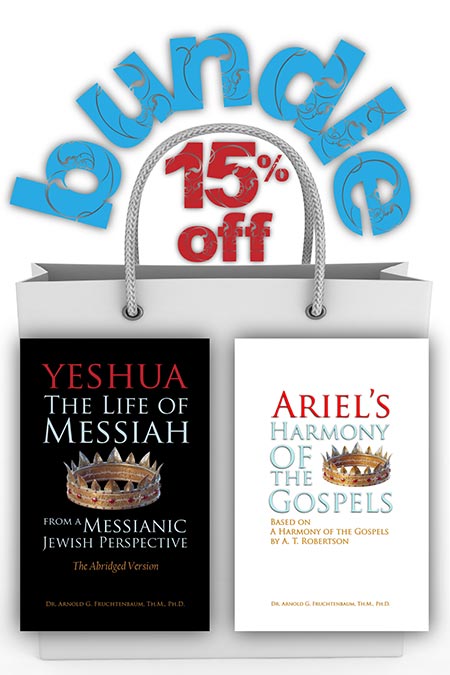 Yeshua: The Abridged Version and Ariel's Harmony of the Gospels Package
YESHUA: THE ABRIDGED VERSION

ISRAEL'S MESSIANIC KING

During His ministry to the Jewish people, Yeshua (Jesus) journeyed throughout the land promised to the Jewish patriarchs, presenting Himself to the Jews as their Messiah. He was a Jew living in a Jewish land among the Jewish people. Yet, much of the knowledge of this Jewish society, its culture and traditions has grown dim with the passage of time. In this work, Dr. Arnold G. Fruchtenbaum shines a bright light on the life of Yeshua and the land of Israel during the Second Temple period, interpreting the Gospels from a Messianic Jewish perspective. To achieve this, Dr. Fruchtenbaum had done original research in the Hebrew, Aramaic, and Greek source texts, and has also drawn on the works of other scholars and the writings of ancient rabbis.

It has taken about four decades of research and work for the account of the life and ministry of Yeshua the Messiah to come into its present form, published by Ariel Ministries in four volumes and an abridged version. The abridgment contains essentially the same material as the multi-volume set, but excludes the source texts for Dr. Fruchtenbaum's teaching. Ariel's Harmony of the Gospels provides the framework for his exegesis.
The Abridged Version
Dimensions: 6" x 9"
712 pages
ISBN: 1-978-935174-75-2
ARIEL'S HARMONY OF THE GOSPELS
(Based on "A Harmony of the Gospels" by A.T. Roberston)
Description: When the theologian and Bible scholar Dr. Arnold G. Fruchtenbaum developed his teaching on the life of the Messiah from a Jewish perspective, he used A. T. Roberton's Harmony of the Gospels as a basis for his studies. However, he deviated from Robertson's work whenever the scholar chose not to follow Luke's sequential order of Messiah's life and ministry. Furthermore, Dr. Fruchtenbaum chose a thematic, not a geographical, approach to establish a coherent chronology of the events depicted in the four Gospels.
The basic translation used in the American Standard Version of 1901. However, the archaic language has been modernized, and the names of persons and places were transliterated in accordance with Hebrew pronunciation. The result of these changes to Robertson's harmony have now been compiled by Dr. Fruchtenbaum and Jan Marek Kopytek in Ariel's Harmony of the Gospels, a work that clearly shows the Jewishness of the Messiah's life, actions, and words.
Hardcover: 338 pages
ISBN: 978-1-935174-62-2