End of Year
Sale
going on now!
Ariel Magazine Winter Edition coming December 1st
Isaiah Commentary coming in mid-January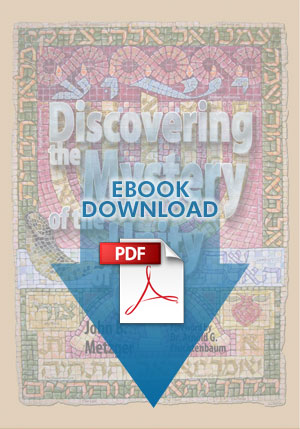 Discovering The Mystery of The Unity of God (PDF)
by John B. Metzger
Discovering the Mystery of the Unity of God provides an eye-opening exploration of the triune nature of God from the pages of the Old and New Covenants. The approach is reverent, yet encyclopedic, with each of the 19 chapters and 8 appendices being a self-contained look at various facets of the plural unity of God. The fully annotated text also includes a bibliography, author and Scripture indices, an epilogue addressing Jewish issues, and a glossary of terms. The reader may be surprised to discover that the great preponderance of references to God's triunity occur in the Old Covenant Scriptures. The author, John B. Metzger, considers each reference diligently, and brings along the commentary of a host of solid Bible teachers, including those from the Messianic Jewish perspective, to give the reader access to rich food for thought. This 936-page, unparalleled resource is the work of seven years, with references to Scriptures from almost every book in the Bible. Serious theology students, seminaries, and church libraries will benefit from this engaging tour of God's Word in search of new understanding of God's nature from the richness of the Bible's Jewish perspective.
'ÄúI was delighted and fascinated with what I found in this book. [John Metzger] has produced a very careful, exegetical study of not only the names of God, plural descriptions of God, but also he has given a strong case for the tri-unity of God in the Old Testament. Pastors and laypersons will find enormous help in discussions such as the angel of the Lord, the meaning of the great Shema in Deuteronomy 6:4, with a great discussion of the precise meaning of the phrase 'ÄúHear O Israel, the Lord our God is one.'Äù This is a much-needed tool to correct and inform the dialogue between Christians and Jewish people as well as for Christians to understand better their own doctrine of the Trinity. This work should bring great blessing to the body of Christ everywhere.'Äù — Walter Kaiser
'ÄúJohn Metzger provides not only comprehensive, biblical based theology of Trinitarianism but a magnificent apologetic work on this cardinal doctrine of the Christian Faith. Moreover, the irenic tone in which it is articulated is designed to build bridges of understanding to the adherents of strict monotheism of Judaism by demonstrating that the God…of their fathers is at the same time one God existing in three persons. Metzger'Äôs scholarly presentation of the biblical data is flavored by an evangelistic urgency that those who are so close and yet so far from the faith might become believers in the God of their fathers who is the Triune God.'Äù — Eugene H. Merrill
'ÄúFinally, a useful book on the Triune nature of God! For years both in sharing the Good News of Messiah and in planting messianic congregations, we'Äôve lacked a suitable book for teaching on this profound and essential doctrine of the faith. In both communicating to the non-believing Jewish community or in messianic discipleship there has been an evident and great need that is met by John Metzger'Äôs book.'Äù — Sam Nadler
'ÄúThe concept of the triune nature of the God of Israel, as taught even by the Hebrew Scriptures, has traditionally been the hardest thing for Jewish people to believe and accept. Often, no matter how well it is explained, Jewish people still tend to conclude that 'ÄúChristianity'Äù actually teaches the concept of three different gods. Even among some circles of Messianic Jews, this is a difficult teaching to accept and is also denied by some who affirm to believe in the Messiahship of Yhua (Jesus). While the New Testament does present the concept of the Trinity in a clearer manner, yet even many New Testament believers have a difficulty in explaining the concept in a way that does not cross the line from monotheism to tritheism. New Testament believers certainly affirm the concept but have a difficult time explaining it. So how does one explain the inexplicable? This is what John Metzger has zealously endeavored to do in this volume, and he has done a superb job in both expounding what both testaments teach on the subject and explaining it in a way that communicates to the uninitiated. While a complete understanding of the Three in One would not be possible this side of eternity, this work is one of the best I have seen in bringing out the clarity of Scripture on the subject.'Äù — Dr. Arnold G. Fruchtenbaum
eBOOK PDF via download
950 pages
Approximate download file size is 5.94MB