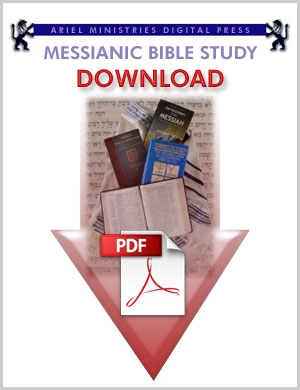 LOM Messianic Bible Study Bundle (download)
by Dr. Arnold Fruchtenbaum
The Life of Messiah from a Jewish Perspective study course references the following 26 Messianic Bible Studies which we have bundled together at a special savings for the student:
mbs009 - The Trial of the Messiah
mbs016 - Nicodemus: A Rabbi's Quest
mbs020 - How Did the Wise Men Know? Or is Astrology Valid?
mbs028 - The Olivet Discourse
mbs031 - Highlights of the Birth and Early Life of Jesus
mbs032 - The Baptism and Temptation of Jesus
mbs035 - The Three Messianic Miracles
mbs036 - The Three Sabbath Controversies between Jesus & the Pharisees
mbs040 - The Parables of the Kingdom
mbs043 - The Confession of Peter
mbs044 - The Transfiguration of the Messiah
mbs048 - Mammon of Unrighteousness
mbs049 - The Adulterous Woman
mbs056 - The Triumphal Entry
mbs060 - The Upper Room Discourse
mbs061 - The High Priestly Prayer of the Messiah
mbs069 - The Agony of Gethsemane
mbs070 - The Death and Burial of the Messiah
mbs075 - The Resurrection of the Messiah
mbs076 - The Ascension of the Messiah
mbs094 - The Sermon on the Mount
mbs099 - The Results of the Death of the Messiah
mbs127 - The Birth and Early Life of the Messiah
mbs134 - How the New Testament Quotes the Old Testament
mbs183 - The Healing of the Man at the Pool of Bethesda John 5:1-47
mbs185 - Jesus and the Samaritan Woman
This download version includes all 26 Messianic Bible Studies combined into a single PDF.