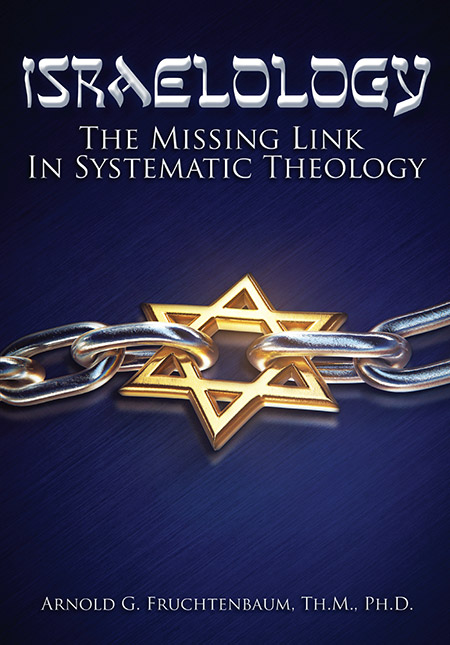 ISRAELOLOGY: The Missing Link In Systematic Theology
by Dr. Arnold Fruchtenbaum
This groundbreaking work is the first to create an entire systematic theology of all that the Scriptures say in regard to the people of Israel. As such, Israelology fills a tremendously neglected void, while affecting nearly every other segment of systematic theology and directly addressing a crucial point of division in evangelical theology today.
Dr. Fruchtenbaum's masterful book, written over a 13-year period to earn his Ph.D. from New York University, exhaustively surveys every aspect of Israel's past, present and future from the perspective of four major schools of theology (postmillennialism, amillennialism, premillennialism, and dispensationalism). Its far-reaching conclusion is that only the last, with its clear distinction between Israel and the church, can, in fact, provide a systematized biblical doctrine of Israel. But even dispensationalists, while organizing every other major scriptural theme from ecclesiology to soteriology to eschatology, have failed to develop a systematic theology of one of the Bible's most integral subjects, Israel. Until now . . . Israelology pioneers a fully dispensational approach to this topic, proving that it is central to a proper systematic theology and, thus, critical in terms of issues such as Messiah's return, evangelism, anti-Semitism, and ultimately, God's entire agenda for Jews and Gentiles alike.
The Biblical Evangelist called Israelology a "tremendous, masterful book... Amillennialism, postmillennialism and other forms of Covenant Theology go up in smoke under the withering blaze of biblical light Fruchtenbaum places on them."
Hardcover: 1,030 pages
ISBN:978-1-935174-64-6