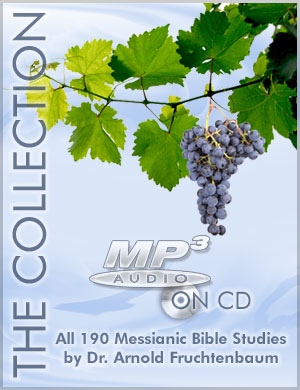 The Collection: MP3 on CD
It's somewhat of a mystery to us as to how he does it, but Arnold Fruchtenbaum continues to come up with new, not to mention, extensive studies of the Scriptures. Maybe it has everything to do with his expert knowledge of Hebrew, Greek, the Talmud, the history of the Jews, the geography of Eretz Israel, a scholar's command of The Word — and the illumination of the Ruach haKodesh.
The Collection includes all 190 Messianic Bible Studies transcribed from Arnold's original radio broadcasts. Each study is a solid foundation upon which you can stand — a whiteboard from which you can teach — or a podium from which you can preach the uncompromised truth to your congregation. We're confident you'll be impressed and eternally blessed, by the laser-like precision of Dr. Fruchtenbaum's anointed exegesis.
This MP3 audio version of The Collection is shipped to you on 5 CDs, containing over 245 hours of teaching on 1,294 MP3 audio tracks:
DISK 1 OF 5: 254 TRACKS, 49.6 HOURS, MBS TITLES 001 - 040
DISK 2 OF 5: 237 TRACKS, 47.1 HOURS, MBS TITLES 041 - 080
DISK 3 OF 5: 253 TRACKS, 50.6 HOURS, MBS TITLES 081 -mp319
DISK 4 OF 5: 270 TRACKS, 49.5 HOURS, MBS TITLES 120, 122-mp353
DISK 5 OF 5: 280 TRACKS, 49.0 HOURS, MBS TITLES 154 - 191
CLICK HERE to see a list of all included studies and preview a table of contents from each study.