End of Year
Sale
going on now!
Ariel Magazine Winter Edition coming December 1st
Isaiah Commentary coming in mid-January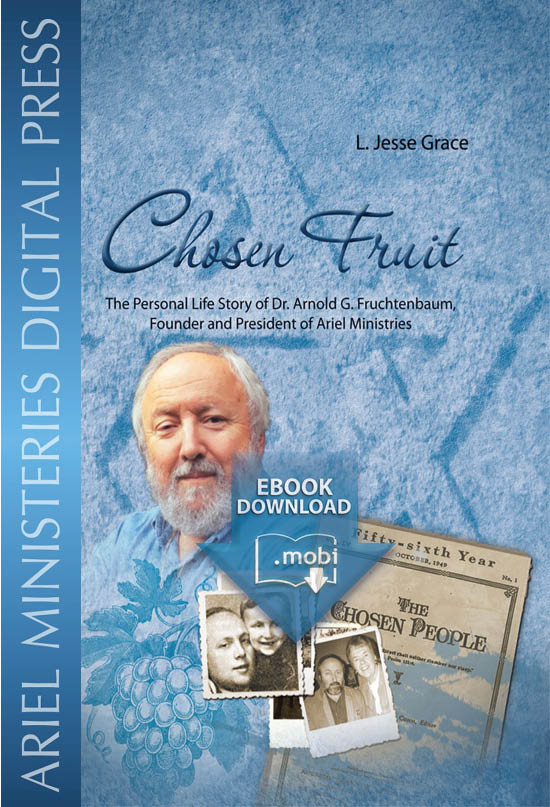 Chosen Fruit - (mobi)
The Personal Life Story of Dr. Arnold Fruchtenbaum, Founder and President of Ariel Ministries
by L. Jesse Grace
Known for his foremost scholarship and his in-depth knowledge of the biblical history and geography of Israel, Dr. Arnold G. Fruchtenbaum has become one of the finest Bible exegetes of our time. The purpose of this biography is to present an intimate portrait of this scholar and teacher. His story will lead you through some of the most dramatic points of world history and take you on a journey around the globe. It is the story of a Jewish man who came to faith in his Jewish Messiah, embarked on a unique journey of servitude to his God, and impacted not only theologians, scholars, and church leaders, but everyday believers alike. Their progress to maturity, as well as the outreach to his Jewish people, is what has kept Dr. Fruchtenbaum going for nearly five decades of ministry—to God's glory and for the salvation of Israel.
"The teaching ministry of Dr. Fruchtenbaum has impacted me for over 30 years. When I left my training at Dallas Theological Seminary and the Hebrew University in Jerusalem in the early 1980s, I was confused as to how to put together the academic and cultural information I had received from these two different perspectives… When I discovered Dr. Fruchtenbaum's teaching, I found what I needed' someone whose academic training was similar to mine, had processed the biblical, Jewish, and Christian data, and had successfully navigated the conflicting theological perspectives within the messianic movement while maintaining a sound biblical Christology, dispensational hermeneutic, and a balanced view of Messianic Judaism and the local church…" — Dr. Randall Price (Distinguished Research Professor and Executive Director of the Center for Judaic Studies at Liberty University in Lynchburg, Virginia)
eBook for Kindle (.mobi) via download
420 pages
Approximate download file size is 12.6 MB
ISBN: 978-1-951059-85-9