Watch for Year End Sale coming soon.
Ariel Magazine Fall Edition: The Three Tenses of Salvation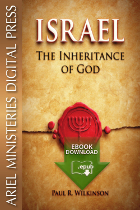 Israel: The Inheritance of God (epub)
by: Paul R. Wilkinson
Israel: The Inheritance of God sheds light on the reasons behind God's choice of Israel as His people. When studying these reasons, one has to dig deep into the Scriptures. The picture that emerges is of a God whose connection to Israel is unbroken because of His own nature and character. Since He put His name on Israel and thus made the people His possession, He must fulfill the promises He made to Israel. The focus shifts from Israel to the God of Israel, and the reader cannot help but walk away with a deeper adoration for this God. The book is thorough and scholarly yet also devotional in tone.
eBook for non-Kindle (epub) download
260 pages
Approximate file size is 760 KB