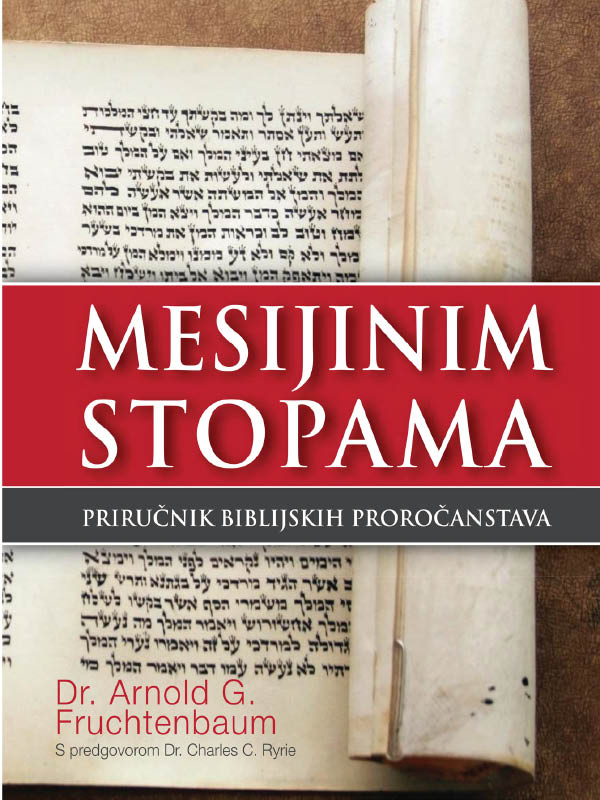 Mesijinim Stopama (PDF)
Priručnik biblijskih proročanstava
by Dr. Arnold G. Fruchtenbaum
Čini se da eshatologija nosi križ obje strane, i prijatelja i neprijatelja. Oni koji je omalovažavaju, izbjegavaju pripisati posebno značenje proročkim tekstovima, oni koji je veličaju često im pripisuju preveliko značenje.
Ali proročki dijelovi u Bibliji neće nikamo pobjeći. Tumači Biblijemoraju stupiti u interakciju s njima i s pojedinostima i posebnostima u kojima su nastali. Dr. Fruchtenbaum je to i učinio, uvijek pokušavajući shvatiti puno značenje biblijskih otkrivenja. Njegov okvir poveznica usmjeren je kao dispenzacijski pretribulacijski predmilenijalizam - a to je jedini pristup što može pružiti dosljedno i usklađ tumačenje proročanstava.
Autorovo razmatranje biblijske graƒëe su≈°tinski je misaono i provokativno. S njegovim zakljuƒçcima neƒáe se uvijek i u potpunosti slo≈æiti ƒçak ni oni koji imaju isti takav pristup, ali kad proƒçitaju ovu knjigu, neƒáe sebi moƒái drukƒçije pomoƒái osim da uƒçe iz ovoga gradiva i budu potaknuti njime. —Charles C. Ryrie
Dr. Arnold G. Fruchtenbaum rođen je 1943. godine u jednom prihvatilištu za izbjeglice u Sibiru. Njegovi su roditelji kao poljski Židovi tamo našli utočište od njemačkih nacista. Poslije Drugoga svjetskog rata, njegova obitelj je preko Njemačje enigrirala u Ameriku. Nakon obraćenja, Arnold G. Fruchtenbaum studirao je na raznim sveučilištima teologiju, filozofiju i arheologiju. Danas živi sa svojoj suprugom u Texasu i voditelj je Misije "Ariel Ministries". Na hrvatskome govornom području poznat je po knjigama "Isus je bio Židov" i "Mesijin Život".
Format datoteke PDF putem preuzimanja
742 stranica
ISBN: 978-1-935174-87-5
Približna veličina datoteke za preuzimanje je 12.8 MB