Ariel India
Bakul Christian, Director
I am Bakul N.Christian, born in Ahmedabad (Gujarat State), in the North West part of India. I was born and raised in a Christian family and accepted Jesus as my personal Savior in 1984. In 1990 I decided to join full-time Ministry, but due to our family situation I was not able to do so. In 1996 I married Jenet and soon after attended Bible college in my city (Gujarat United School of Theology), earning a bachelor's degree in theology (B.Th). My daughter Selena was born in 1998. Soon after my studies I joined the Church of North India Gujarat Diocese as an associate pastor and served two years as pastor over five congregations. In 2003 I went to New Zealand to gain some cross-cultural experience. I traveled to New Zealand again in 2005 on an invitation from the Gujarati Community Church in Auckland and remained there for a year. It was there that I met David Thomson of Greenlane Church and Antony Wood of the (then) Ariel New Zealand branch.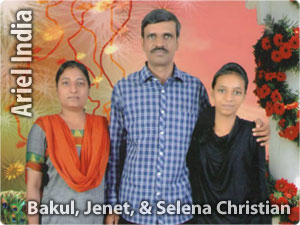 In 2007 it was arranged that I should attend the upcoming 4-day Ariel camp at Matamata, in New Zealand's North Island. I attended camp but I didn't comprehend everything because I was unfamiliar with the Jewish perspective in such detail. After further studies with these leaders, and particularly after witnessing a demonstration of Messiah in the Passover, I came to grasp the main point of the Ariel's teaching. After returning to India later that year I requested that Tony and David come to India with Ariel's teaching. They began to come at further invitations and eventually the work spread out from Gujarat state. David now teaches in Central India and we have been invited to South India and the North Eastern States of India in our next missions.
After due consideration from the new board of Ariel New Zealand this year, it was decided not to renew its support for the Indian project. I have recently asked the Ariel home office to consider a full branch of Ariel in India. They have graciously accepted my request. We are presently working with the authorities in India to register Ariel as a religious charity and we are seeking the Lord's wisdom on all the practical decisions that need to be attended to in this transitional time. We should also like to take this opportunity to thank everyone in the Ariel family — particularly Dr. Fruchtenbaum and the home board as well as Arielniks in New Zealand — for all the encouragement we have received and continue to get from around the world. Please continue to pray for us as we seek the Lord for his specific directions for our next outreaches and for godly people in India to help us with that task.
---
Contact Us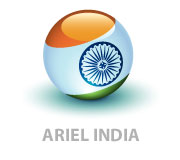 For more information, please contact us at:
Ariel Ministries India
Bakul N. Christian
D-20, Anand Colony,
Near Baroda Express Highway,
CTM Cross Road,
Ahmedabad - 380026
GUJARAT - INDIA
Email:
Landline: 0091-79-25853245
Cell phone: 0091-9978128038
Skype name: bakulkumar.christian