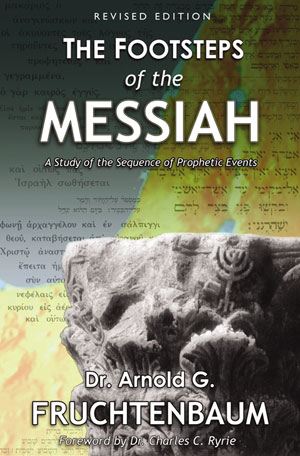 Now back in stock.
The Footsteps of the Messiah: - Revised 2020 Edition
by Dr. Arnold Fruchtenbaum
"The 2020 revision primarily focuses on correcting some formatting and spelling inconsistencies of the 2003-edition of this work as well as the editing of the text to improve its readability. Furthermore, it includes a new topical index as well as my altered view of II Thessalonians 2:3, which I developed after additional research of new scholarly work, such as Dr. Andy Woods' "The Falling Away - Spiritual Departure or Physical Rapture?", published in 2018 by Dispensational Publishing House."
Arnold G. Fruchtenbaum - March 2020
Using the Book of Revelation as an end time road map, Dr. Fruchtenbaum weaves the prophetic writings of the Hebrew Scriptures and Messiah's teachings to reveal God's plan for the future of Israel and the world. Dr. Fruchtenbaum gathers the many pieces of the prophetic puzzle and places them in sequential order with the result summed up by Dr. Charles Ryrie in his foreword: "Those who read this book cannot help but be instructed and stimulated by his work."
Footsteps is detailed, thorough and scholarly, yet written in a style that the average reader can easily understand. With a wealth of wisdom drawn from his Jewish background and extensive research, the author even tackles the "problem passages" to provide a comprehensive overview of the entire range of prophetic truth."In a thoroughly biblical, balanced, and clear presentation, Arnold Fruchtenbaum plainly lays out God's plan for the future while avoiding the sensational errors of other prophetic writers. I have relied on this book as a resource for years." — Michael Rydelnik, Professor of Jewish Studies Program, Moody Bible Institute
Hardcover: 816 pages
ISBN: 978-1-951059-59-0
You may also like