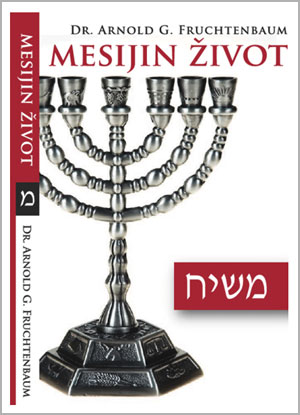 The Life of Messiah from a Jewish Perspective (Croatian)
by Dr. Arnold Fruchtenbaum
Croatian translation of "The Life of Messiah from a Jewish Perspective"
Ješua je rođen u židovskoj kući u židovskoj zajednici. Kao dječak u Nazaretu, pohađao je židovsku sinagogu gdje je napamet naučio židovska Pisma. "Rastao je u mudrosti, i milosti pred Bogom i ljudima" Nikad se nije zaputio izvan obećane zemlje židovskih patrijarha. On je bio kršten od posljednjeg od starozavjetnih židovskih proroka. Svoju zemaljsku službu proveo je među židovskim narodom. On je razapet, pokopan, a onda uskrsnuo te pružio dokaz o njegovoj otkupiteljskoj snazi najprije Židovima, pa onda Grcima.
Povijest misije Dr. Arnold G. Fruchtenbaum posvećena je istraživanju i objašnjavanju Života Mesije iz židovske perspektive kako Židovima tako i poganima da stave svoju vjeru u našeg židovskog Mesiju. Život Mesije iz židovske perspektive prikazuje Ješuu u Njegovom ispravnom židovskom kontekstu kao dugo očekivanog židovskog Kralja i Spasitelja svijeta.
Svih devetnaest sati ove neusporedive serije nedavno zabilježene su na Teološkom fakultetu, i dr Fruchtenbaum nikada nije učio učinkovitije. Svaka crkva, zajednica, Kršćanska škola i dom sada mogu koristiti ovu novu Biblijsku studija za osvjetljavanje život i službu Ješua HaMaschiach, Isusa - Krista. Naša najdublja molitva je da ova serija potakne i osnaži učinkovito Tijelo Mesije i ispriča priču o našemu židovskom Mesiji za sve koji će slušati.
Dr. Fruchtenbaum gradi svoju studiju u svjetlu pravilnoga židovskoga konteksta na čvrstim temeljima A.T. Robertsona i na dokazanoj harmoniji Evanđelja.
eBook PDF via download
168 pages
Language: Croatian
Approximate download file size is 1.09MB
ISBN: 978-953-55337-1-9