Viewing 1 out of our 1006 products.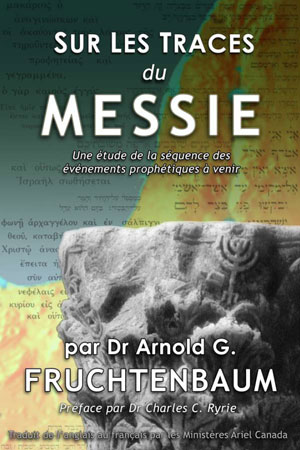 Sur Les Traces Du Messie (French)
by Dr. Arnold Fruchtenbaum
French translation of "The Footsteps of the Messiah"
En utilisant le Livre de l'Apocalypse comme une feuille de route de la fin des temps, le Dr Fruchtenbaum tisse les écrits prophétiques des Écritures hébraïques et les enseignements du Messie pour révéler le plan de Dieu pour l'avenir d'Israël et du monde. Dr Fruchtenbaum rassemble les nombreuses pièces du puzzle prophétique et les place dans l'ordre séquentiel avec le résultat résumé par le Dr Charles Ryrie dans son avant-propos: «Ceux qui lisent ce livre ne peut s'empêcher d'être instruit et stimulé par son travail.
Pas à pas est détaillé, approfondie et savante, mais écrit dans un style que le lecteur moyen peut facilement comprendre. Avec une richesse de sagesse tirée de son passé juif et de la recherche approfondie, l'auteur aborde même les «passages de problème» pour fournir un aperçu complet de la gamme entière de vérité prophétique. »Dans une présentation complètement biblique, équilibrée et claire, Arnold Fruchtenbaum Expose clairement le plan de Dieu pour l'avenir tout en évitant les erreurs sensationnelles des autres écrivains prophétiques. Je me suis appuyé sur ce livre comme une ressource depuis des années. »- Michael Rydelnik, professeur de programme d'études juives, Moody Bible Institute
Vingt ans d'enseignement de l'Eschatologie depuis l'écriture originale de ce livre a donné au Dr Fruchtenbaum des réflexions supplémentaires sur certains passages. Cette édition mise à jour comprend cinq nouvelles annexes au livre.>
eBook PDF via download
950 pages
Language: French
Approximate download file size is 5.33MB
ISBN: 978-1-935174-10-3
---